All City Plumbing Services
All City Plumbing provides installation and service for:
Water heaters
Water Softeners
Tankless Water Heaters
RO Systems
Gas Piping
Sump Pumps
Battery Backup Sump Pumps
Garbage Disposals
Instant Hot Water Systems
Backflow Prevention
Backflow Testing & Troubleshooting
In-Floor Heat
RPZ Testing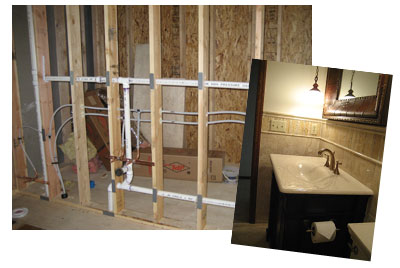 We install complete plumbing systems and fixtures for your home, remodeling project or upgrade, and we repair fixtures and systems with reliable, affordable service.
Contact us today to set up an evaluation, estimate or to schedule a service.
"We appreciate your business, we don't expect it."
Our clients say...
"Recently we contracted Bret Hepola of All city Plumbing regarding several plumbing projects in our home. Inclusive in the work was the installation of a tub/surround, all other bathroom hardware and repair/replacement/upgrade or two outside faucets.
Bretís general quote was quite competitive and in that case one may wonder if the quality of work will be good.
We can report that all work was done and completed to the highest level of professional standards. Bretís work was beyond our expectations and he was a most enjoyable and respectful tradesman to have in our home. First class service!
We heartedly recommend Bret Hepola and All City Plumbing. There is no need for Angieís List when it comes to your plumbing requirements; one only needs to have Bretís phone number. Should a potential customer wish to contact us, please feel free to do so during reasonable business hours at 763-535-5688."
- Ron & Debi